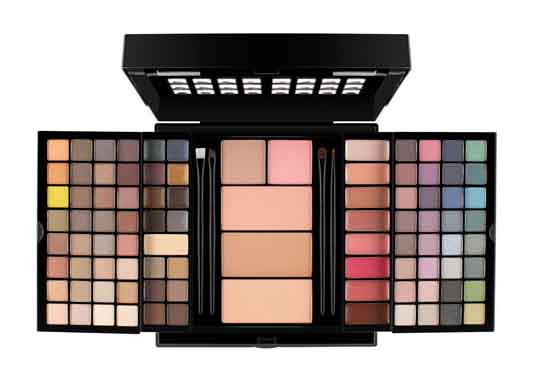 Why is this palette the winner? This professional palette haseverything you'll need for makeup application except foundation, concealer and mascara. I've never seen another palette so comprehensive in such a storage-friendly size! Naturally, the products contained therein are all of the quality you've come to know and love from smashbox. The kit also includes a "get the look" book, for step-by-step instructions on how to create sexy looks with the makeup inside.

Last but not least, a great reason to choose this palette is the charitable contribution that goes along with purchase. Every purchase from the smashbox "Wish" collection will result in a $1 donation to Children's Miracle Network*, a non-profit that grants the wish of life to millions of sick or injured kids by providing care and investing in life-saving research (donation up to $25,000).

Retail price is $59. When you consider the amount and quality of makeup this money buys, you know it's a steal! Included are: 64 Eye Shadows, 8 Cream Eye Liners, 6 Brow Tech Powders, 1 Brow Wax, 8 Lip Glosses, 2 Blushes, 1 Complexion Brightener, 1 Bronzer, 1 Highlighter and 4 Mini Brushes (Shadow, Liner, Brow & Lip).

In the kingdom of palettes, smashbox reigns supreme!